www.GASHcollective.com - version 3.1
Updated: 11/05/17



We're currently busy with other projects, but we'il be back soon.

Ears to the ground.
teamGASH x
www.facebook.com/GASHcollectivePAGE
www.twitter.com/GASHcollective
www.GASHcollective.com/manifesto
Soundsystem bookings:
soundsystem@GASHcollective.com






PARTY MUSIC - DANCING - DEBAUCHERY
A ridiculous, one-off, multi-room clubnight of licensed madness at the best Manchester venue you've never been to.
GASH style.

We are currently selling limited edition heavyweight military T shirts.

FREEPARTY MILITIA - GASH UNIT

SNAP EM UP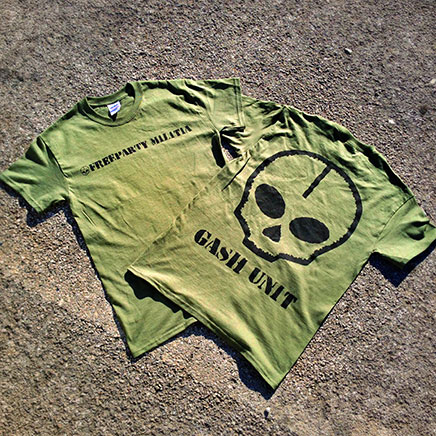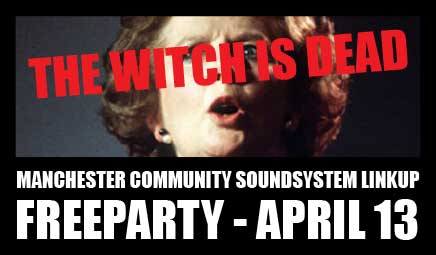 WOW. Its safe to say we sent the evil old hag off in style.
Big up the Mcr community crew and all the people who partied all night then helped us tidy up and leave the site as beautiful as when we arrived.

Full report and Photos online soon.

"THE WITCH IS DEAD -
Thatcher stood for individualism and inequality, we stand for society and community. We dance on the grave of this individual because we oppose everything she represented.
Her death changes nothing. Her policies continue to unfold from beyond the grave to the detriment of the people. Her legacy lives on in not only the Conservative, but all of the political and economic puppeteers who are very much alive and running the country right now. Still, We celebrate.
We celebrate the death of the individual over the community. We take this opportunity to come together and make these communities stronger. We continue to organise against the legacy that has a choking grip on all of us.

The witch is dead. The struggle continues..."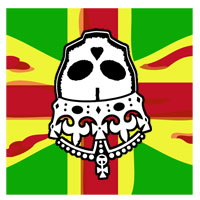 GASHcollective Anti-Jubilee Weekender

July 2/3/4 2012

OFFICIAL PHOTO GALLERY



BIG plans in the making, be patient,
iI's getting tough to find venues big enough for all you crazy people,
But we're more than on it, have no fear.
We'll see you all real soon.
Look out for announcements!

GASHcollective freeparty faction x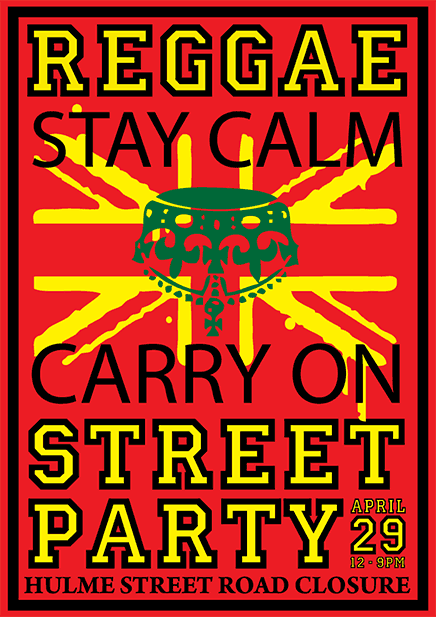 THURSDAY AUGUST 5th
- GENERATOR -
BIG multi venue clubnight / fundraiser
for equipment and vehicles seized at UKTEK Freeparty this summer.
SHOW YOUR SUPPORT.




Holy shit. Making history yet again. If you didn't make it to this one, you REALLY should be ashamed of yourself. If you were one of the thousands that did, massive respect! As promised, we partied deep into Sunday afternoon, and in glorious sunshine. PERFECT location, truly amazing crowd and weather better than anyone could have hoped for.
Beautiful.

PHOTO GALLERY - OFFICIAL VIDEO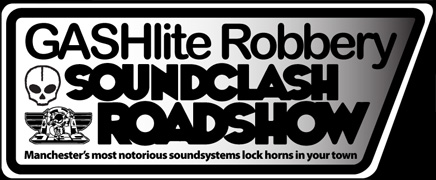 UK SOUNDSYSTEM TOUR. OCTOBER 2011.
See the tours mini-site for info and bookings!



The website has been relaunched and will be updated in the coming weeks, Keep checking back for photographs, videos and reports about the last few GASH parties.
Check out our new MANIFESTO, and pictures of the ZOMBIE FREEPARTY.




Photos and Videos online now... CLICK!

FREEPARTY OUT IN THE STICKS
July 25 - 2009
Photos online - CLICK!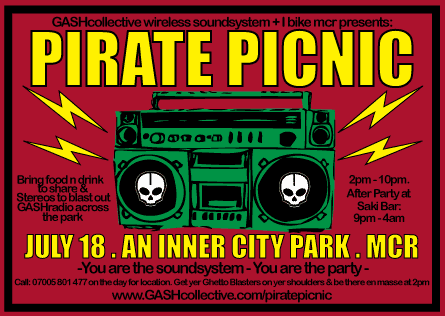 MINI SITE for more info.
PHOTOS ONLINE - CLICK!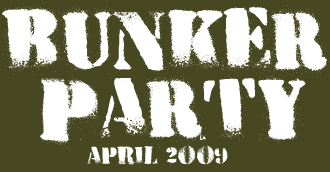 A 4 Rig Chaos Fest in an underground military Bunker in the woods.
SEE PHOTOS - Read/post Reviews
March 1 - 2009 - Jilly's Rockworld.
CLICK FOR MORE INFO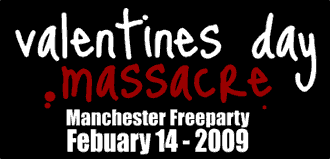 Pictures up soon.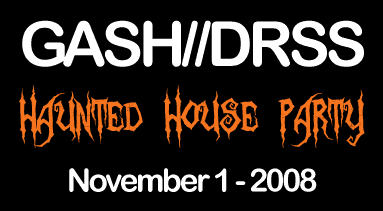 Amazing party. Packed to the rafters, big bass from 3 heavy rigs and everybody well up for it.
Click HERE for some crazy pictures..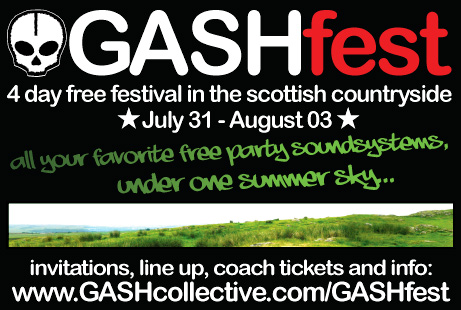 CLICK THE IMAGE ABOVE TO ENTER THE GASHfest Mini-Site!

NEWS FLASH
Hey guys.
A van belonging to GASHcollective was stolen today.
In the back of the van was well over £1000 worth of microphones.
THE PARTY ON SATURDAY IS STILL GOING AHEAD (of course)
We will borrow some equipment from friends,
But we are GUTTED, and this is gonna hit us HARD.
If you have ANY information about the van, or you hear of anyone trying to sell microphones,
PLEASE GET IN TOUCH.
The Van was Stolen whilst parked on the Street in Chorlton, Manchester on the afternoon of Wednesday March 26.
It is a Red, 1992 SWB Ford Transit Van.
You can message us on myspace, or email martin@GASHcollective.com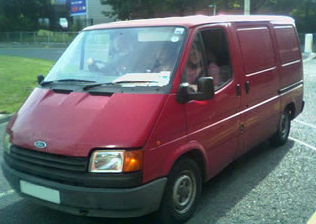 It looks similar to this one

As much as we HATE to have to ask, there will be a donation bucket on the door at the March 29 Party.
If you can afford anything, please help us out.
You can also donate online from the DONATIONS page
We can't borrow Vans and Microphones to do parties with forever, and right now, we can no where near afford to replace them.
Sound Engineering and driving is how we scrape our living, and fund free parties.

Here is a big FUCK YOU to anyone that would steal someone's lively hood from outside their home.
That being said, Lets have a gooden on Saturday.
Bring all your friends, lets bring down the fuckin' roof.



MARCH 29 - 2008
See the mini-site for more information and invites:
www.GASHcollective.com/march29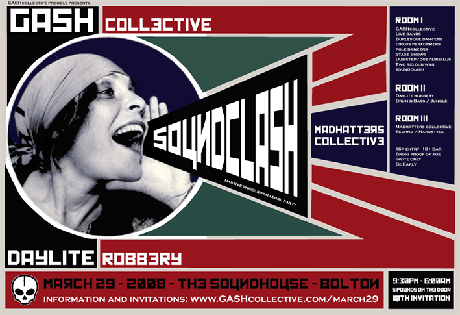 February 23 - 2008 - BRADFORD AREA
Another AMAZING party.. Thanks so much everyone!!
Photos online on myspace

January 26 2007 - GASH // DRSS Free party in the Manchester Area.

AMAZING night, thanks to everyone who came and made this run so smoothly.

CLICK THE IMAGE FOR MORE INFO AND INVITES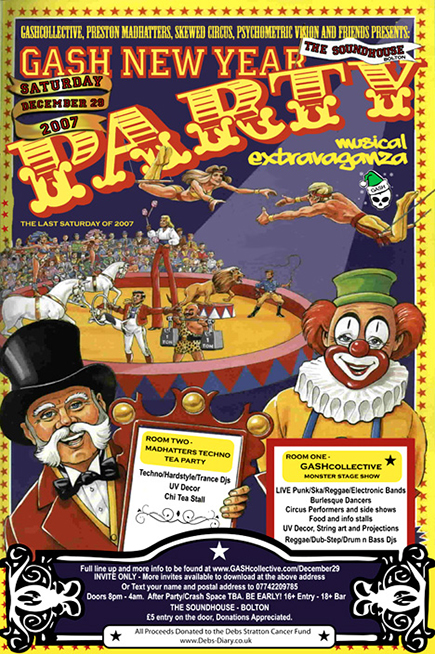 We've Uploaded all the photos we can find of past GASH events to the MYSPACE
Check em out, see if you can spot yourself.

nice little warm up gig after our long summer away on tour: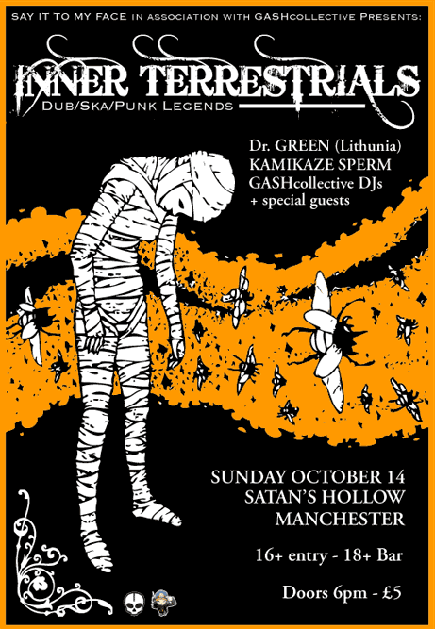 GASHcollective are having a break this summer, as most of us are away touring with KAMIKAZE SPERM.
We'll be back in October with some SAVAGE parties.
Have a fucking GREAT summer!
See you soon.
GASH x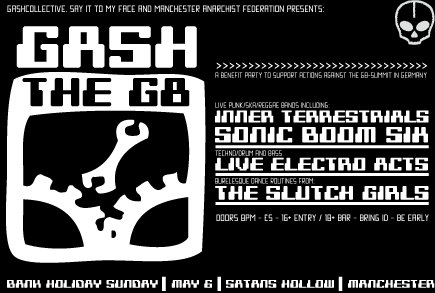 GASH PARTY IN BRADFORD saturday - April 21
GASH, MADHATTERS, SMD and BRADFORD ANARCHIST COLLECTIVE are teaming up to bring you a SAVAGE free party in Bradford this saturday.
Bradford is EASY to get to on the train, so pack your party bags and bring yer friends!
AMAZING, Thanks again to everone who came.
Photos online on the myspace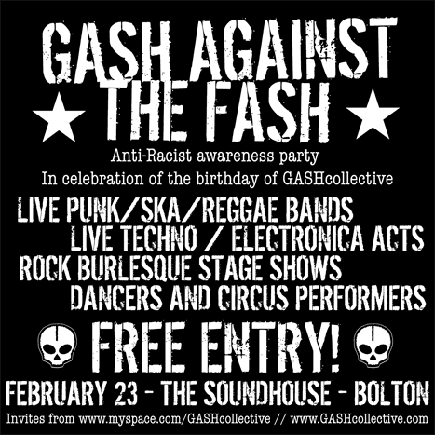 AWESOME party on Friday!
We managed to raise almost £400 for a local Refugee Drop-In-Center
Thanks to EVERYONE!!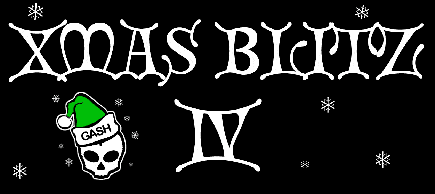 Saturday December 28 - 2006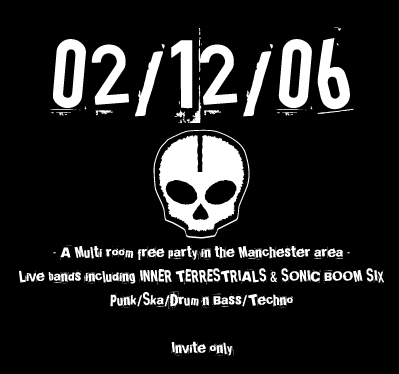 Pictures Online

Some more great stuff coming up, Bare with us.
We're busy looking for new venues, and We've been away Touring with our bands.
We will hopefully have a very big free party sorted for November.
If you have any ideas, Get In Touch.
We're also going to re-launch the [collision] hard techno clubnight very soon.

LAFF FEST POSTER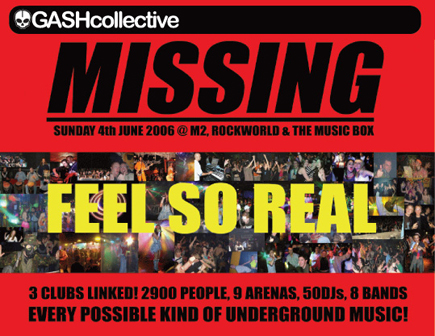 click the image above for more info

Things have been a liitle quiet this month at GASH HQ.
We've been off to other peoples parties and touring with our bands.
Weve got some great stuff planned, including the biggest ever MISSING party,
The relaunch of the [collision] techno night in Bolton
and some lovely outdoor parties in the countryside.
A much needed website revamp is also underway.
See you all on June 4th!